The great American patriot, activist and folk artist
Pete Seeger
is 90 years old. In a nod to tradition, the Obama state department has failed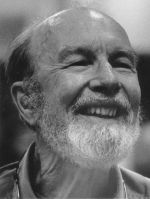 to process the visa of Cuban singer/songwriter
Silvio Rodríguez
, a leader of the progressive
nueva trova
movement and an invitee to
the birthday celebration in Madison Square Garden
last Sunday. According to an account published on
Granma
, the Cuban news agency, the
CubaDebate
website received a message from the singer/songwriter saying that he had failed to receive a visa by Friday, thus thwarting his plans to travel to New York in time for the party.
Blockade, it turns out, is still the official policy of the Land of the Free.
"It is 8:40 p.m. on Friday, May 1 in Paris" Silvio wrote,
"and I have just connected to the website where the U.S. embassy in France publishes news on visa applications. Mine appears as still being processed, as it has been since I applied for it. Since today is the day that I was supposed to fly to New York and the visa hasn't appeared, I leave for Havana tomorrow. I think that the State Department's attitude is very much in contradiction with President Obama's express desire for a rapprochement with Cuba. As a worker in (

sic: Granma translated this, not me

-jg), I still feel as blocked and discriminated against as by other governments. I hope that this will really change some day."
Seeger, who made the song
Guantanamera
– by Joseíto Fernández, with verses by
José Martí
– a worldwide hit, has been a tireless critic of the pointless U.S. blockade of Cuba.
Looks like Pete Seeger has his work cut out for him as he works toward a century of activism.